Construction of hangars in Kazakhstan: more than just a benefit!
One of the priorities of Temir Astana LLP is the manufacture of frameless prefabricated hangars.
The secret of the extraordinary rise of the wave of popularity of prefabricated metal structures in Astana, Kokshetau and other cities of Kazakhstan is explained quite simply. Easy to assemble, built in a matter of days, but at the same time reliable and very durable structures will serve their owners for decades, and the prices for their construction always surprise our customers with their democracy.
The range of operational capabilities of these facilities is unusually wide. They can be used in the industrial or commercial sphere as warehouses, shopping centers, markets, production halls, parking lots, service stations, etc. The construction of hangars is also in great demand in agriculture: they are used as vegetable stores, granaries, stables, poultry farms, barns, refrigerators for storage of poultry and meat, etc. They are also used in social infrastructure, for example, as sports, entertainment complexes, etc.
Is carried out according to modern unique technologies of frameless construction. The design of prefabricated hangars assumes the presence of a special complex made of tape rolled steel. This complex is installed on a lightweight strip foundation.
In the construction of arched hangars, there is no need to build a frame, which allows, firstly, to make full use of the construction area, and secondly, significantly reduces the cost and timing of construction work. When installing hangars of this type, no additional fastener is used, as a result of which the structure acquires better sealing performance and does not need serious insulation.
Arched hangars produced by Temir Astana LLP are distinguished by impeccable appearance, presentability, they have high strength and reliability, are absolutely safe to operate, and in addition, are designed for use in harsh climatic conditions, both in heat and cold. The service life of our facilities exceeds 70 years!
Our prefabricated metal buildings are typical, so our customers do not have to pay extra money for the preparation of the project. Well-established production using high-tech equipment with a high degree of accuracy and automation allows us to produce exceptionally high-quality metal structures. The choice of typical frameless projects is quite large and allows you to easily find the right option that suits your needs.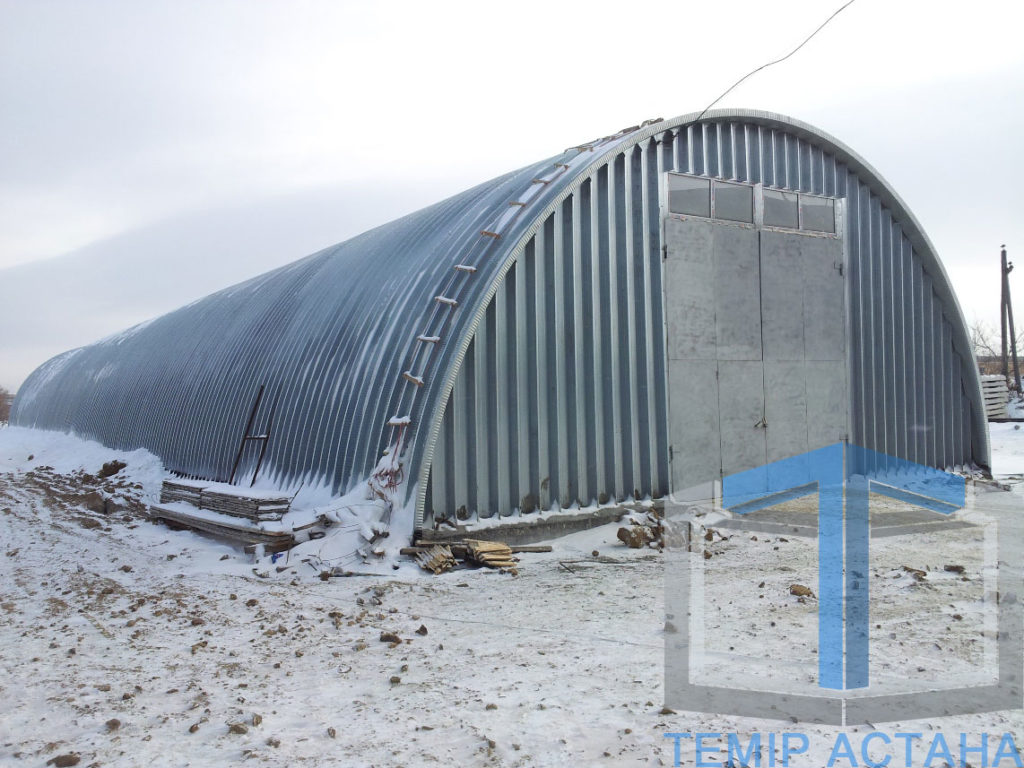 Типы конструкций бескаркасных арочных сооружений